In the winter season, we need the Best Room Heaters or any other heater in every home. Because freezing cold will make us, we can't do anything without a sweater.
If in our home or room heater is available then we freely move any point of our home.
For this everyone will agree that Best Room Heaters in Winter plays a major role, there is no Savior is there more-then the Best Room Heater in India.
For creating a comfortable atmosphere inside the room, It will protect you from freezing cold inside the room. your heater does it all.
For those who want to know which room heater is best, read our 10 Best  Room Heater in 2020 India
In India winter season we purchase a heater for a home while purchasing you need to know what is best for your home or office or room.
By selecting those heater's features and its specification that the company gives you. for example warranty and safeguard, etc.
In-Room Heater, There are 2 type
1. Convection Heater
2. Radiant Heater
1. Convection Heater (Best Room Heaters in India)
Convection Heater is depending upon the way of heating. In convention Heater, it uses any fluid medium that is air to heat the object
A ceramic fan heater is the most common example of convection. The hot air is circulated through the room with the help of a ceramic fan and a heating element
On the other hand, an oil-filled heater contains fins filled with oil which is heated with the help of an electric resistor.
The diathermic  (system is one in which heat can go in or out of the system)oil serves as a heat reservoir and heats up the air around it.
This type of heater is expensive but more suitable for large and big dimension room silent operation.
Also Checkout
2. Radiant Heater (Best Room Heaters in India)
Infrared radiation is used to heat the objects around the radiant heater. The infrared energy travels in the form of electromagnetic waves that get absorbed by the objects in their path, which results in increased temperature of the object.
Such types of heaters can only be used for spot heating to heat up the surroundings. They are a good option for large auditoriums, we're heating up the whole space isn't required. It doesn't have any heat loss while traveling through air and the heat energy is entirely absorbed by the cloth, skin, or other nearby objects.
Best Room Heaters in India
Use this chart as a rough estimate to determine how many watts need to heat a room
| | |
| --- | --- |
| Room sq. ft | Heater Wattage |
| 50 | 500 |
| 100 750 | 750 |
| 125 1000 | 1000 |
| 150 1250 | 1250 |
| 175 1500 | 15001 |
| 200 1600 | 1600 |
| 250 2000 | 2000 |
| 300 2500 | 2500 |
| 350 3000 | 3000 |
| | |
| --- | --- |
| 350 3000 | 3000 |
| 400 4000 | 4000 |
| 450 4000 | 4000 |
1. Orpat OEH-1260 2000-Watt Portable Heater

Specification
In these 2 heat setting knob
Can use as a fan
Variable thermostat setting for temperature control
Cord winder facility
Ideal for small and medium room
Safty setting Auto-revolving Overheat protection Touch sensor
Two heat setting 1000watts and 2000watts
2. Usha Fan Heater (1212 PTC) 1500-Watt Heater
Specification
Meant for spot heating
Room size up to 150sq ft
Two-stage safety for overheating protection
Fire retardant strong ABS home
Room sq.ft Heater Wattage
3. Usha Quartz Room Heater 3002 800-Watt
This heater is perfect for room size up to 150sq ft, it best for spot heating also With overheating protection. It consumes 230v/50hz, also designed for low power consumption.
The safety tip for this heater is, over switch cuts off the heater in case of tilts or falls. This Powder-coated finish to preventing corrosion. There are two Heating position to suit your comfort.
Specification
Powder-coated finish to prevent corrosion
Designed for low power consumption
There are two heating positions to suit your comfort
4. Usha 423 N 2000-Watt room Heater Convector with Over Heat Protection
Specification
Meant for Spot Heating
Room Size Upto 150 sq ft.
Overheat Protection
ISI Mark
1-year warranty
Usha heat convector with 3 heating positions 665/1330/2000 watts
Two fan speed
Twin-turbo design for better heating
Thermal cut out and portable
Night light indicator
Side air inlet grills
Technical Details
product dimensions 25*22*25cm
Weight 3.29kg
5. Maharaja Whiteline Quato Quartz Heater with -Best Room Heaters in India
Specification
Meant for Spot Heating
Elegant design and Easy to Carry Handle
2 heat settings that are 400 watts to 800 watts
Easy to carry and safe tip-over switch
Quartz tubes
Designed for low power consumption
ISI marked
Best room Heater in India – Oil-filled heater
1. Usha 3209 with Oil Filled Radiator 2000-Watt Best Room Heater

Specification
Meant for Spot Heating
Room Size Upto 150 sq ft
9 fins Oil filled radiator
Three heating positions
World-class oil grade ED/HD 300 for better performance
Inbuilt tip-over switch and overheating protection for safety
Maximum Power Consumption 2400 W
Operating voltage 220-240 volts
Warranty of 1 year on product
Technical Details
Product dimensions 39*24*63cm
Weight 11.8kg
2. Usha 3609 FS PTC 2000-Watt Oil Filled Radiator Best Room Heaters in Winter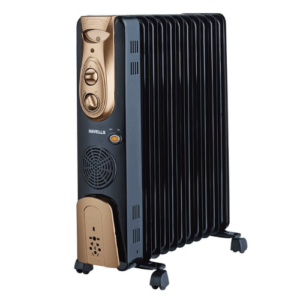 Specification
Cord storage and rear safety cover
Overheat protection and tilt over switch for safety
Quick heating with PTC fan and castor wheels for easy mobility
3 power settings that are 1000/1500/2500 watts and additionally 400 watts (Heater + Fan)
Thermostatic heat control.
Power input 230 V
PTC heater with fan
3.Singer OFR 9 FIN 2600 Watts and Oil Filled Radiator Best Room Heaters in Winter

Specification
3 Power Settings and 2600 Watts
9 Fins Oil Filled Radiator
PTC Fan for Faster Heating
Thermostat Control and Overheat Protection
Castors for Easy Mobility and Cord Storage
1400, 2000 and 2600 watt power motor
Works on a 220-240 power voltage
2-year warranty
4. Xtreme Infrared Electric Room Heater H1 1800W
Wall or Ceiling Mount Indoor or Outdoor
Specification
Stay cozy and warm with Xtreme Infrared Heater and warms indoor and outdoor spaces directly.
In this Xtreme Infrared Radiant heater produces IR radiation which gives heating just like sun rays, It gives an effect of the sun rising in the room.
It does not burn oxygen and this gives very comfortable heating and can be used very comfortably in closed rooms.
Xtreme Infrared Radiant heater delivers a comfortable radiant heat warming the people and objects in its path, instead of wasting energy heating the air.
It is best for use in dining areas, Living rooms, Bedrooms, outdoor rooms, and high-end houses/farmhouse.
Premium, Sleek & beautiful design gels with most modern, traditional & luxury interiors.
Suitable for up to 200 Square Feet area.
Ceiling or wall-mounted fixed installation type heater.
Technical Details
Product Dimensions 109.5*7*21.5 cm
Best room heater in India 2021 Buying Guide:-
Type of Room Heater
Fan Heaters or Blower Heaters
Infrared Heaters
Oil-Filled Heaters
There is 3 type of room heater available in the market and, they are on their own feature.
Fan Heaters or Blower Heaters
Also known as ceramic heaters, convection room heaters, and blower room heaters, these are the ideal choice if you want something in the budget.
These room heaters come with a fan over a heating element to circulate warm air in the room. With the advanced thermostat switches, you can easily turn it on/off, when the desired level of temperature has reached.
Also, the best part is its fan that you can even use in the summers to get cold air.
Infrared Heaters
These room heaters are also known as radiant heaters or quartz heaters. It works on infrared technology to produce warmness around you.
It comes with a quartz tube or ribbon filament that transfers heat directly to you, as soon as you switch on the device.
But these room heaters are ideal for small rooms only. These units offer quick heating, but the major drawback is that the heat gets dissipated soon after you switch off the device.
Oil-Filled Heaters
As the name shows these room heaters use oil. That is to be poured into the heating element to warm up the surrounding area.
These are the expensive room heaters but are the best ones to warm up the large rooms with no noise at all.
Conclusion
The above information fulfills your requirements for the Best room heater in India, if this information is helpful then share it.