Mastering Player Unknowns Battlegrounds Mobile (PUBGM) and Battlegrounds Mobile India (BGMI) involves a lot of skills and adjusting the sensitivity settings, to what fits best for your smooth Gameplay.
Here is a sample of sensitivity, which you can adjust as per your requirement, this is a sample for zero recoils.
This is not only Sensitivity Settings for M416 & AKM Gun, these Sensitivity Settings for all guns.
Is Sensitivity Settings is required in PUBGM?
Mainly for recoil control, and for smooth gameplay, you need to have Sensitivity Settings.
In today's PUBG mobile scenario, Sensitivity Settings and Control settings are important thing to get the best Chicken Dinner.
Here you will get BGMI: How to Download BGMI
Perfect settings will make your gameplay smooth, Proper graphics settings will not give laginess, and a perfect sensitivity setting will help you to control the gun's recoil easily.
Checkout:- Gaming PC build under 85000 [FULL SET UP] 1080p gaming in 2021
General Settings in PUBG Mobile
In this section all about your
1.) Basic settings:-
In this part, you will have the primary settings of the game like Aim Assist, Firing modes, peek & fire, gyroscope ON/OFF buttons and other kinds of stuff. You can adjust and change those settings according to your choice.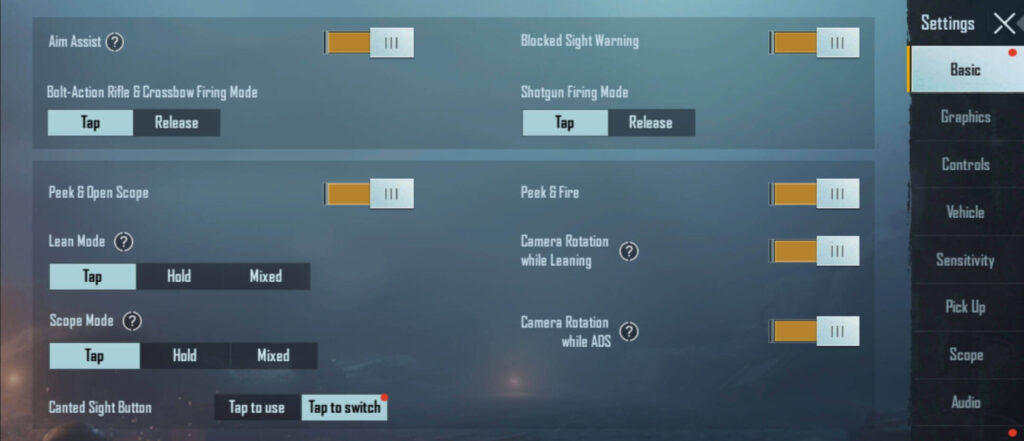 2.) Graphics Setting:-
Graphics settings are a must and the most important settings of the game. Graphics settings are used for smooth gameplay.
Adjust the Picture Quality, Frame Rate or FPS (Frame per second), Texture style, and In-game brightness. On a budget Mobile Phone, you will get an FPS of Medium.
The Frame rate plays the main role in close-range gunfights. Getting a Higher frame rate means a smoother screen while playing.
Frame rate should be Extreme level, many smartphones do not support the Extreme level. In this case, you can use the High or Ultra mode.
The graphic style also plays a main part in rendering textures like houses, buildings, trees, it helps the player to spot an enemy.
The ideal graphics mode should be Classic / Colorful. If you have a Mid-end device then this is the best setting for a lag-free and smooth experience.
3.) Vehicle Settings
In this part, you can adjust the vehicle operating controls, left and right car joystick options. stick with the default setting in this part.
Best Sensitivity Settings For PUBG Mobile
These Settings will help to control recoil.
1.) Camera Sensitivity Setting
camera sensitivity is the crosshair setting without the scope-in. A camera sensitivity settings are shown below as a sample.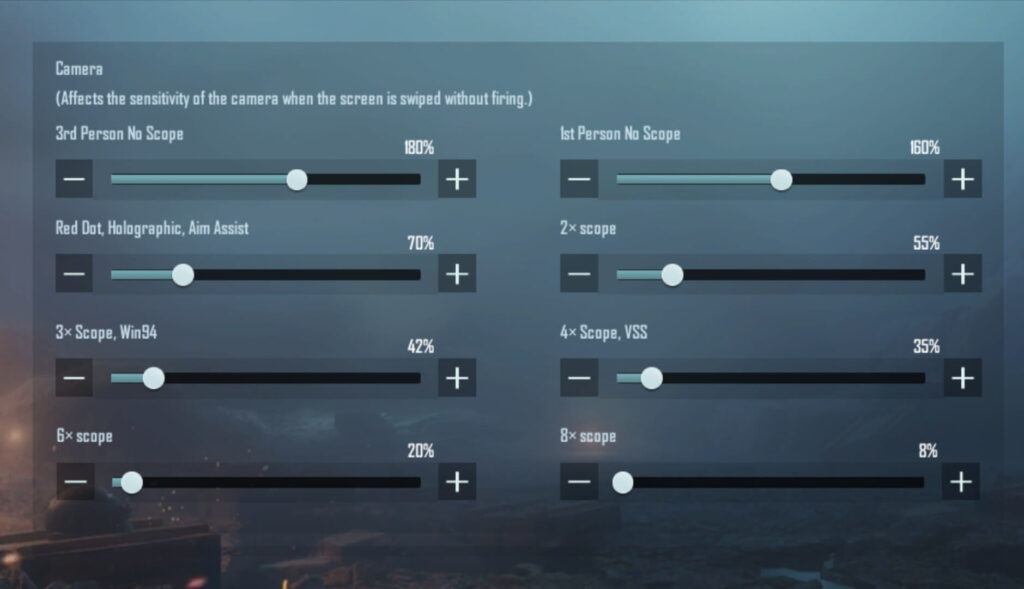 One thing, every player should keep in mind that, should not copy other player's sensitivity.
You guys should make your own Sensitivity Settings by spending time in the training ground. This will helps you in gameplay.
2.) ADS Sensitivity Setting
ADS or Aim Down Sight sensitivity is helping when a player is viewing or spotting Opponents, enemy through Scop on this is called Aim Down Sight (ADS).
ADS setting helps players to shoot smoothly and very accurately if he/she is a Gyroscope player.
While in-game you need accurate aiming. Wherever you spot enemies, your aiming will knock out your opponents, if it was accurate, even with fewer weapons.
3.) Gyroscope Sensitivity Setting
Gyroscope is another way of controlling the gun's recoil and for moving crosshair. In this type of Setting players just have to tilt their device to control recoil and move crosshair.
In this setting, very easy to control the recoils of the guns than the ADS, for this perfection is required.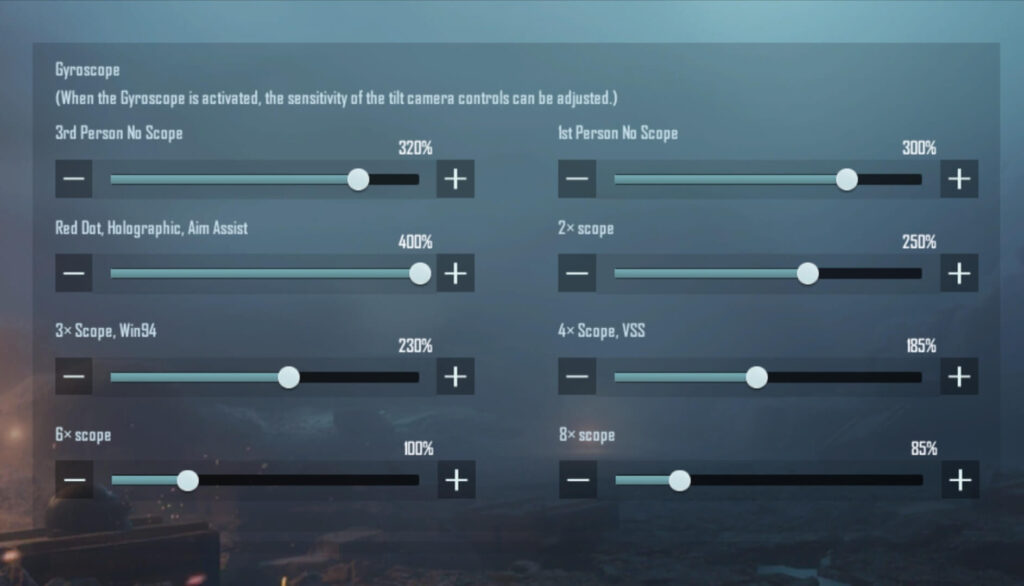 Conclusion
I hope this was helped, and this setting will help you to get Chicken Dinner.
Checkout